Tuesday 9 August 2022

Fabulous run for Clara Evans in the Birmingham 2022 Marathon! Result 2:38:03, 9th position.
---
Tuesday 9 August 2022

Well paced race from Jenny Nesbitt in her second Commonwealth Games 5000m at Birmingham 2022 Result: 15.34.98, 12th place
---
Saturday 6 August 2022

What a run by Jake Heyward in the Birmingham 2022 1500m final!! He smashed his PB, beat the Games Record AND is now 8th on the UK all time list! Result: 3:31.08 PB, 5th position ..
---
Saturday 6 August 2022

Congratulations to Jac Palmer on his debut Birmingham 2022 in the Hammer today Result: 66.63m, 11th position
---
Saturday 6 August 2022

A strong and consistent run from Bethan Davies in the 10'000m Race Walk! Result: 45:45.59 SB, 6th place
---
Friday 5 August 2022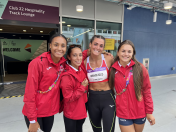 Cardiff athlete Charlotte Wingfield reached the 200m Semi Finals Friday evening representing Malta
---
Thursday 4 August 2022

3 solid races for British 100m Champion Jeremiah Azu at Birmingham 2022 Huge congratulations!
---
Wednesday 3 August 2022

A brilliant finish to the Birmingham 2022 Heptathlon for Lauren Evans with a strong performance in the 800m. Total points: 5209, 7th position overall Huge congratulations to La..
---
Wednesday 3 August 2022

It's GOLD and a Games Record for Aled Davies in the Men's F42-44 Discus Final!! Huge congratulations Aled!!! Result: 51.39m GR, GOLD!!!
---
Saturday 30 July 2022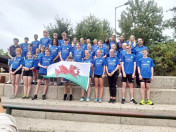 This weekend saw the Youth Development League regional final at Rugby. It was a long way to travel but the Cardiff athletes that did were brilliant. All competing well and many getting pers..
---