About Cardiff Athletics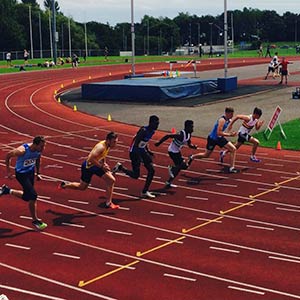 Cardiff Athletics is the only sports club in Cardiff that caters for the full range of athletics and is one of the leading athletic clubs in Britain. The club's activities cover track & field, road and cross country and it has members that participate in fell running, disabled athletics and social running.
The club is an incorporated organisation with charity status, which has a core administration team and is a supported by a large number of volunteers with officials, coaches, team managers and others providing countless numbers of hours without payment of any kind.
If you would be interested to join or help in any way, please contact any of the club's office and you will be assured of a warm welcome.
Membership is open to all over the age of 7 and there is no upper age limit. The procedure for joining is very simple and full details, including subscription rates can be found on our how to join link.
The club provides coaching and opportunities to compete in club teams taking part in the British Athletic League (men), UK Women's League (women), UK Youth Development League, Welsh Junior Leagues, Welsh Athletics League, as well National Championships at various levels and age groups. Competition is available throughout the year.
The official club colours are blue vests (with red and white side stripes) and red shorts and these can be purchased in the club room. These colours should be worn when competing in the name of the club.
The club is oldest in the United Kingdom of Great Britain and NI having been founded in 1882 and has an interesting and distinguished history. Club members have enjoyed great success, amassing no less than 144 medals (62 gold) from major championships such as the Olympic Games, World and European Championships and Commonwealth Games.
The club is proud to count amongst is current and former members such famous names as Lynn Davies, Colin Jackson, Christian Malcolm, Dame Tanni Grey Thompson, Jamie Baulch, James Thie and young athletes such as Jeremiah Azu, Jake Hayward, many others.
The club is based at Cardiff's International Sports Campus at Leckwith, Cardiff where it has its own clubhouse and office.
The club meets together officially throughout the year on Monday, Tuesday and Thursday evenings with the Academy starting at 6pm to 7pm and the Club training starting at 7pm to 8:30pm.
Cardiff Athletics is one of Sport Cardiff's Super Clubs and works closely with the local community and schools to ensure everyone has access to athletics.
The club is affiliated to the governing bodies of athletics in Britain and in Wales which are UK Athletics and Welsh Athletics respectively.