Thursday 8 July 2021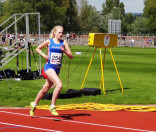 Jeremiah Azu in GB U23 Team
Jeremiah Azu has been selected for 100m and 4x100m Relay, in GB team for European U23 Championships, in Tallinn, Estonia, between 8th – 11th July.
Jeremiah performances in the Olympic Trials SM 100m, where he progressed from
Heat to Semi Final, and onto Final. He was 2nd U23 in 100m SM Final, deserved his place in GB U23 team.
Poor weather, cold on first day, also windy, affected sprint performances.
54 British U23 athletes have been selected for the U23 European Championships.
Olympic Trials 25th - 27th June.
A good number of Cardiff athletes (18) competed in Manchester over the 2 days, some achieving pb's, and a Welsh record.
100m Jeremiah Azu U23 Heat 4. 2nd 10.86. SF. 2, 4th 10.38 sb. Final 7th 10.46.
100m Sam Gordon SM Heat 5. 2nd 10.85. SF. 1, 4th 10.48.
100m Arron Owen SM Heat 6. 4th 10.79. SF. 3, 7th 10.71.
100m Dewi Hammond SM Heat 3. 6th 11.08.
400m Owen Smith SM Heat 2, 3rd 47.26. F. 8th 47.09.
400m Rhiannon Linington-Payne SW Heat 3. 8th 56.52.
800m David Locke U23 Heat 1, 4th 1.50.14.
1500m Jake Heyward U23 Heat 4. 1st 3.44.94. Final. 3rd3.42.47.
1500m James Heneghan Heat 1. 6th 3.49.95.
1500m Cari Hughes U23W Heat 1. 4th 4.28.47. Final.7th 4.16.19 pb
3k s/c Kate Seary SW Final. 4th10.11.08 pb, Welsh and club record.
5000m Charlotte Arter SW Final. 4th 15.34.64. pb
Jennifer Nesbitt SW 5th 15.40.92.
Clara Evans SW 9th 16.24.88.
5kW Bethan Davies SW Final. 1st 22.47.85. sb
Shot Putt. Aled Davis SM F42 1st 15.80. sb
Long Jump. Rebecca Chapman Final 7th 6.09.
Decathlon SM Curtis Matthews Shot Putt 15.21 pb HJ 1.80. DNF.
Well done, to all Cardiff Athletics athletes competing in Muller Olympic Trials.