Tuesday 16 November 2021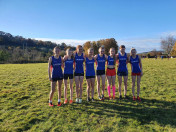 GREAT WEEKEND FOR CARDIFF ATHLETES
BRITISH ATHLETICS CROSS CHALLENGE
The second round of the British Athletics Cross Challenge returned this weekend, in Milton Keynes, after a fantastic opening event in Cardiff last month. Several Cardiff athletes took part in the event, with many using this event as an opportunity prepare for the European Cross-Country Trials, happening in Liverpool in two weeks.
In the Senior Women's race, Jenny Nesbitt 2nd place and Cari Hughes 6th. In the Senior Men race, Nathan Jones finished in 32nd place.
The Junior Men's race Cardiff athletes finishing well inside the top 20. Ben Miles 14th and Lloyd Sheppard Brown 18th.
Dan Nash 1st and Matthew Edwards 2nd the Senior Men's race in the second round of the Gwent League, this time held in Brecon.
Performances of note in Brecon.
U11 Girls – Lily Parsons – 1st
U13 Girls – Bryony Boyce – 8th
U15 Girls – Millie Gold – 1st
U17 Woman – Gwenno Goode – 13th
U20 Women – Moli Lyons – 1st
Senior Women – Emma Palfrey - 50th
U11 Boys – Idris Cartwright – 33rd
U13 Boys – Leo Davies – 44th
U15 Boys – Kerby Beltran -7th
U17 Men – Ben Hughes – 6th
U20 Men – Jacob Reynolds – 4th
Senior Men – Dan Nash -1st
It was a great day, and all the teams are sat in strong positions in the league going into the next fixture on the 4th December in Pembrey.