Friday 26 February 2021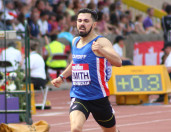 Tura, Poland 4 th / 7 th March 2021
Great Britain (GB) team for the European Indoor Championships was announced this week, following
trials held last weekend, at Loughborough and Sportscity, Manchester.
Owen Smith (SM).
Congratulations to Owen who has won selection for the second time, in taking part in the GB 400x4
relay team. Owen is one of 3 Welsh athletes gaining selection for GB team.
Owen said with everything that's gone on over the past 12 months he's really looking forward to be
with the team, pushing for a medal in the relay.
Matt Elias (Coach) said we were lucky to get access to Indoor facilities, and able to prepare for some
Indoor competitions at Sportscity. Great to see Owen back in GB team, after injury setbacks, is
testament to the hard work Owen always puts in.
Jennifer Nesbitt SW. In the Sportscity trials 3km finished 5 th in 9.09.14 SB, her time was nearly 8secs
faster than her January 3km performance, at same venue.
Lee Valley Indoor Results
Jeremiah Azu (U23) competed in 60m heats, he recorded 6.90.
Rebecca Chapman (SW) competed in LJ with 6.01 a SB performance.
USA Winston-Salm, North Carolina
Elliot Richards SM 1 Mile 3 rd 4.19.49 PB.
Welsh Athletics
Virtual 2km U17 /U20 Battle of the Regions
Cardiff's Charlie Hurdman U17 (South Wales) 2km time 5.30 equal 2 nd fastest time.
Frank Morgan U17 (West Wales) 5.29
Dafydd Jones U17 (West Wales) 5.30
West Wales won team race.
32 runners took part across Welsh Regions, with U17 (23 runners), U20 (9 runners), in final results.
Virtual 2km runs, were held off track, during February half term school break.