Wednesday 2 June 2021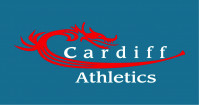 There were a number of very good club athletic performances set in meetings, held in UK, and overseas, last Bank Holiday weekend.
29th May
Portland Track Festival USA
Leading last 800m like in his first race, Jake Heyward (Mark Rowlands) in a tight 1500m race finish Jake was 3rd 3.33.99. He achieved Olympic Qualification standard, a new Welsh senior record, and new club record.
Making up for lost time, from injury last year, Jake is racing in Europe later this week.
NCAA Division 2 T&F Championship Michigan USA
Elliot Slade helped his Academy of Art College to 4th place, winning 800m 1.49.99 and final leg 400mx4 relay.
European Athletics Team Championships Super League Poland 29th – 30th May
Jeremiah Azu and Sam Gordon were in GB team 100x4 relay that finished 6th.
British Miler's Club Manchester
Kate Seary SW (Luke Gunn) 3k s/c 2nd 10.21.23 achieved a Welsh and club record.
Ieuan ThomasSM (James Thie) 3k s/c 3rd 8.50.38 sb sb.
David Locke U23 (Sonia George) 800m 3rd 1.49.72 pb
Lizzie Harris SW (Steve Mitchell) 800m 3rd 2.08.53 pb.
British Miler's Club Street
Aimee Callow U29 (Liz Davies) 800m 3rd 2.13.68 pb.
Belgium
Lauren Williams U23 (Matt Elias) 400m H 3rd 61.34 sb.
England Athletics Combined Events Senior / U20 Championships
Curtis Matthews SM (Fyn Corcoran) SM 3rd 7052pts.
Lauren Evans SW (Matthew Wood) 5th 4920pts.
27th May
Manchester Invitational
James Heneghan U23 (James Thie) 1500M 5th 3.41.66 pb.
ROAD
Welsh Athletics 5km Series Pembrey 29th May
Dan Nash SM 2nd 14.29 sb
Millie Gold U13G (Mark Gold) 6th 18.05 pb