Thursday 13 May 2021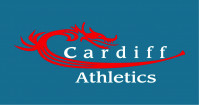 May 1st, WA's Local Junior Competition at Newport
On a cool breezy day, a number of Cardiff athletes took part in various events. For most it was their first competition on track since early 2020. They will need a few track competitions to get race fit.
3km
U15B Kobe Beltran 1st 9.41.20 – U15B 3rd Samuel Boyce 11.29.18. U15G 1st Millie Gold 10.29.58.
1500m
U15B 3rd Cian Harold 4.41.07 – U15B 6th Iwan Froley 4.54.52.
U17M 1st Charlie Hurdman 4.24.00 U17M 4th Osian Tyrell 4.30.54.
300m
U15B 1st Harvey Lee 43.96 – U15G 1st Grace Richards 44.43 – U17W Lily Rees-Thomas 1st 44.59.
800m
U15G 1st Mai Phillips 2.27.45. U17W 3rd Freya Hughes-Rolls 2.31.24.
U17M 1st Ben Farrell 2.05.18 – U17M 2nd Elis Finlayson 2.08.46.
U20M 2nd Ben Reynolds 1.53.50 – U20W 2nd Eleri James 2.40.88.
400m
U17M 2nd Max Davies 54.88.
3km
U20M 1st Ben Miles 9.05.25
U20W 1st Moli Lyons 10.13.57 – U20W 3rd Aimee Callow 10.59.80.
SW 3rd Rebecca Evans 10.34.21 – SW 6th Annwen Gammon 11.31.83.
1500m
U20M 2nd Jacob Reynolds 4.04.03 – U20W 2nd Lili Jones 5.33.96.
400m
U20M 2nd Aaron Jolly 50.64 – SM 5th John Bridge T 01 52.86 – 6th Lloyd Jones 56.29.
ROAD 2nd MAY
CHEPSTOW SPEEDWAY 10km
Race was held in good conditions for endurance running, dry cool weather, led to fast times, winner Omar Ahmed 29.18 Birchfield H/Ethiopia.
SM 25th Matthew Edwards 30.21 SB – U20M 34th Lloyd Sheppard 31.18 SB
SM 39th John Lunn 31.34 SB -- U20M 59th Alex Jackson 32.35 PB
SW 71st Jennifer Nesbitt 33.20 SB 1st Female finisher.
U17M 83rd Oliver Price 34.02 PB – U20M 92nd Joel Price 34.37 PB.